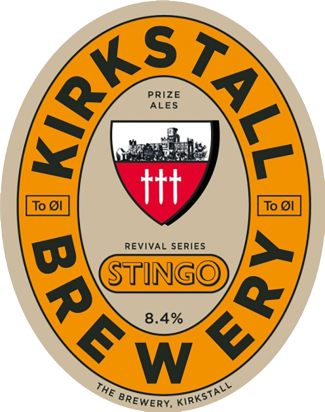 Kirkstall Brewery
Stingo
Revival Series
8.4% ABV
Our 8.4% barrel aged 'Stingo' is a revival, twofold: of a uniquely Yorkshire style of strong beer; as well as our To Øl collab Bad Habit.
The base recipe brewed with Tom (a former Kirkstall brewer) was an Imperial Bitter using Golden Promise, Amber Malt, Crystal Malt and Brewer's Invert Sugar No. 2. Primary fermentation was with house yeast WLP001, and after six months in Bourbon barrels, it has evolved into our take on Stingo.
This barrel aged beer has a tremendously expressive palate of malt and oak, ripe with orange peel and caramel flavours but without any cloying sweetness. The barrel brings vanilla and spice, tempered by a lasting, dry finish.